Bottle and Beverage Labeling Machines
Label Any Bottle
At Race Label Solutions, we provide manual labeling machines to increase labeling efficiency for start-up, medium-sized and large-sized commercial businesses.
Our bottle labeling machines do not require electricity and are not prone to the host of problems associated with more complicated and expensive industrial or in-line labeling machines. Our machines can label any type of container — but more often than not, they are used to label round and tapered bottles (for beverages like beer and wine) and square bottles (like olive oil bottles).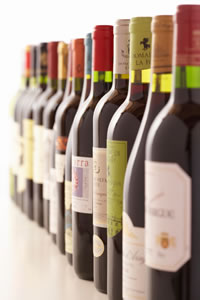 Breweries and Craft Beer Labeling
Our labeling machines are ideal for small breweries and craft beers that need to apply their labels accurately and quickly without breaking the bank. Since our labeling machines do not include as many complicated components as more expensive labeling machines, our bottle labeling systems are more reliable, more affordable and easier to use.
To apply beer bottle labels in a cost-effective and time-efficient manner, check out our RL-1 and RL-TC models.
Wine Bottle Labeling
Small wineries can benefit from using our machines for label application, and larger wineries can utilize our labeling machines for specialty or short print runs.
To apply wine bottle labels accurately and efficiently, check out our RL-1 and RL-TC models. In addition, our RL-RZ labeling machine labels wine bottles with front and back labels alternating on the same roll. It can also apply labels produced in-house directly out of a small run printer that is in a fan-fold instead of the standard 3″ round core. And our RL-RZ does not require a "rewinder" as most other labeling machines do.
Other Bottles You Can Label Instantly!
In addition to providing accurate label application for wineries and breweries, our labeling machines can apply water bottle labels and shampoo bottle labels — so if something needs a label, we can label it!
Contact Race Label Solutions for fast, accurate and dependable label application today!
Our Two-Year, All-Inclusive Warranty
Race Label Solutions guarantees all label application machines for two years against any failure caused by any defective part or by any defect in our workmanship.
We will replace any defective part free of charge and will fix any malfunction caused by us — on any machine — free of charge. We do not warranty our machines against abuse, misuse or accidental breakage.
We also offer a 30-day warranty on the performance of the machine. If at the end of 30 days you are not satisfied with the machine or if we have misrepresented the machine's capabilities in any way, you may return it for a full refund, providing it is returned in its original box and in original condition.
No Electricity Required!
Since our labeling machines are manual and do not require electricity, they are exportable to other countries without concerns for differences in voltage, amperage and current fluctuation. In addition, our machines can be operated without the major safety concerns that come into play while using more complicated and expensive industrial labeling machines, and they will not rust in tropical or humid environments.
At Race Label Solutions, designed an excellent product that helps you avoid the painstaking problems often encountered when using electronic labeling machines. Our labeling machines save you time, money and are eco-friendly, helping you reduce your carbon footprint! Ask one of our experts about the best way to use our machines to benefit your business. Contact us for manual bottle labeling machines for more efficient label application today!
Ask About Our Payment Plans!
Race Label Solutions encourages you to call in to discuss our labeling machine offerings. Call 800-653-9357 or 505-259-6955 for labeling machines that will increase your business' efficiency today. And don't forget to ask about our two-year, all-inclusive warranty.
If You Can Bottle It, We Can Label It
Testimonials
We here at Roberto's Salsas & Sauces invested in a Race Label Machine several years ago and still use that same machine today. It has proven to be a very durable, dependable and adaptable labeler throughout the years serving as a wonderful timesaver versus hand applying labels to our various jarred products. Probably the best thing about this labeler that we like is that it simply doesn't break down, one of the best investments we've made for our company by far!

Watterson Foods

I purchased the RL- RZ in 2010 and have used it for several labelings of wine bottles. It has been a superb machine and has made the job of labeling a snap. In 2012 we purchased tapered bottles. Unfortunately, the RL-RZ does not do tapered bottles. I called Marc Moore to explain our dilemma and he volunteered to send me the RLTC machine and allowed me to use it free of charge for this bottling run. Such outstanding customer service is very rare these days. We now know that Race Labeling Concepts not only sells high-quality products but also takes outstanding care of its customers.

Desert Sun Vineyards

For more than ten years I've been using a race label machine at my winery. It's done a great job on all my bottles – over 250,000 of them. It's fast and easy to use and I've never had a problem with it. I am pretty sure it's going to outlast me.