The first Race Label label-application machine was designed and built for use in our own food company, Crown Jewel Gourmet. After procuring a large order from a nationwide gourmet products chain, we attempted to hand label several thousand jars like many other small companies. Hundreds of expensive labels and PET spice containers were wasted in our initial production run.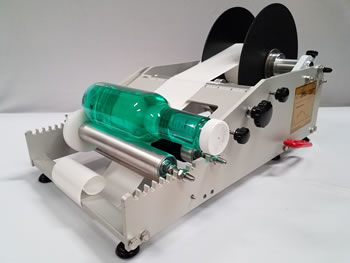 Prior to the internet providing readily available information on label applicators, we began the tedious process of locating an affordable, semi-automatic machine. We learned salespeople from almost every company promised their equipment was easy to use. We spent so much time and hundreds of wasted labels trying to operate various machines. Needless to say, none of them within our price range of several thousand dollars performed in a real production line as promised.
We needed to come up with a solution!
Necessity became the mother of invention and we set out to design and build our own label applicator. After numerous designs and weeks of testing with a prototype, we put the first machine into our production line with remarkable results. We applied for a Patent and, while pending, traveled to various food and trade shows to market our new Race Label standard machine, the RL-1.
We attended shows at the:
Unified Wine & Grape Symposium in Sacramento
Eastern Winery Expo
Food & Wine Classic in Aspen
Fiery Foods Show here in Albuquerque
After seeing the prototype, friends and colleagues immediately wanted to purchase one for their own line of products. Local favorites, such as Milagrow Vineyards, Anasazi Vineyards & EL Pinto Restaurant & Salsa Co., were among the first to purchase our RL-1 label applicator machine. And El Pinto labeled 650,000 salsa jars in a year before going with a fully automated system.
Once granted our Patent, we continued to innovatively engineer and manufacture several different variations of labeling applicators.  We successfully adapted a range of models to accommodate hundreds of different shapes and sized containers, jars, tubs, tins and containers.
Different industries have specific needs when it comes to packaging products
Today, our patented label application machines are sold worldwide, allowing almost any industry to professionally and accurately apply labels with spot-on perfection.
No matter if you're a small start-up company, medium-sized business or large commercial business, we have the solution to your label application requirements and needs.
All machines featured on our site are professionally designed with the primary purpose of putting labels on straight, easy, fast and economically.
Testimonials
We here at Roberto's Salsas & Sauces invested in a Race Label Machine several years ago and still use that same machine today. It has proven to be a very durable, dependable and adaptable labeler throughout the years serving as a wonderful timesaver versus hand applying labels to our various jarred products. Probably the best thing about this labeler that we like is that it simply doesn't break down, one of the best investments we've made for our company by far!

Watterson Foods

I purchased the RL- RZ in 2010 and have used it for several labelings of wine bottles. It has been a superb machine and has made the job of labeling a snap. In 2012 we purchased tapered bottles. Unfortunately, the RL-RZ does not do tapered bottles. I called Marc Moore to explain our dilemma and he volunteered to send me the RLTC machine and allowed me to use it free of charge for this bottling run. Such outstanding customer service is very rare these days. We now know that Race Labeling Concepts not only sells high-quality products but also takes outstanding care of its customers.

Desert Sun Vineyards

For more than ten years I've been using a race label machine at my winery. It's done a great job on all my bottles – over 250,000 of them. It's fast and easy to use and I've never had a problem with it. I am pretty sure it's going to outlast me.